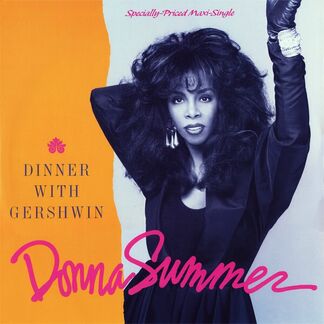 Dinner With Gershwin is the first single from Donna Summer's thirteenth studio album "All Systems Go."
The song was written by Brenda Russell (who also produced the song along with Richard Perry).
Chart Performance
Edit
"Dinner With Gershwin" peaked at number 48 on the Billboard Hot 100, number 16 on Billboard's Hot Dance Music\Maxi-Singles Sales chart, number thirteen on Billboard's Hot Dance Music\Club Play chart & number ten on Billboard's Hot Black Singles chart, returning Donna to the top ten of Billboard's R&B chart.
In the United Kingdom, the song peaked at number thirteen on the UK Singles chart with Donna's appearance on "Top of the Pops" on November 19, 1987.
The song peaked at number 39 on the Canadian RPM Singles chart, number 13 on the Irish Singles chart, number 16 on Billboard's Italy Fimi Singles chart, number 43 on the Dutch GfK chart & number 34 on the Dutch Top 40 chart.
Single Personnel
Edit
Richard Perry - Producer
Brenda Russell - Associate Producer, Additional Synthesizer, Backing Vocals
Steve Lindsey - Synthesizer, Organ, Piano, Drum Programming
Donald Griffin - Guitar
Howie Rice - Clav
Stanley Clarke - Clav Concept
Larry Klein - Fretless Bass, Additional Synthesizer
Gary Herbig - Clarinet
Collyer Spreen - Percussion
Terral (Terry) Santiel - Additional Percussion
Bunny Hull, Joe Turano, Maxie Anderson - Background Vocals
Glen Holguin - Engineering
Steve Peck - Additional Engineering
Ken Felton, Kraig Miller, Scott Maddox - Second Engineer
Community content is available under
CC-BY-SA
unless otherwise noted.